It's hard to believe that 2019 is here. Another year filled with opportunities to reach our professional goals and create new ones. But before we all start screaming, New Year, New Me, here are 7 things we want every hairstylist to accomplish in order to live your best life in 2019.
#1. Take a Vacation
We know you spend all year servicing your clients but take a moment to getaway and recharge. You deserve it! Treat yourself to an adventure in a new city or grab your girlfriends for a weekend of laughter at a resort. Self-care is important in this industry; it goes without saying but, "You can't pour from an empty cup."
#2. Charge Your Worth
Never be afraid or ashamed to charge clients more for your expertise, especially if you're a master or specialist in a certain cosmetology area (e.g., color correction, extension installations, specialty cuts) and people are frequently looking to snatch up your next open appointment. That's an indicator that your dollar value needs to go up…Charge your worth!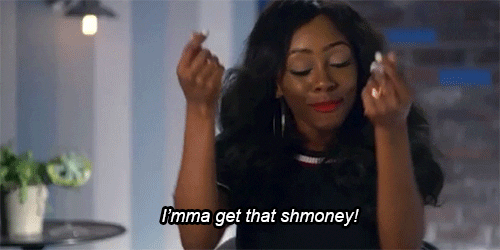 #3. Stop Giving Discounts
Hear us out! While discounts are a great marketing tool to attract new clients into the salon, it can be a slap in the face to loyal returning clients. It goes back to Charging Your Worth – your prices reflect your ability to slay hair and your clients are willing to pay you for your skills, so there's no need to discount your professional worth. This also includes extending discounts to friends and family. Stop it!
#4.  Learn a New Technique
The beauty industry is forever evolving with new innovative techniques and there's no better time than now to enhance your skills. Maybe you've been wanting to take a hair sculpting class, barbering workshop, or finally attend a beauty trade show [insert your dreams here, but you get our drift]. It's time to start planning (and budgeting for) your continuing education goals now!
#5. Update Your Salon Decor
Break up the monotony in your work space by adding new decor or remixing your current setup. Change the wall color. Hang an inspirational art piece over your station. Update your styling chairs. Roll out a new rug. Add some flowers. Rearrange your retail area. JUST DO SOMETHING. Not only will it enhance the client experience, but trust us, the small change in your salon decor will give you a boost of daily inspiration.
#6. Save For Your Future
If you haven't already, please start saving for your future. Cosmetology is a lucrative business, but it can be all for nothing if you lack the self-discipline to save a certain percentage of your earnings for retirement planning, rainy-day funds, education, travel, etc. Which is why going into the new year we encourage you to consult a financial adviser to help you build a solid savings plan.
#7. Brag More
Ever wonder why we're so attracted to celebrity hairstylist or platform artists? It's because they've mastered the art of bragging on themselves (humbly). They're constantly inviting us into their world via social media – posting pictures of amazing hair artistry, giving us sneak peeks at new projects, sharing hair tips and tricks, catching flights, etc.
And it's time to follow suit. Yes, you're great at doing hair, but most clients visit you because they think you're fly. So brag a little by giving them a glimpse into your accomplishments, master plans, and personal goals. Believe us when we tell you, they're rooting for you!
Happy New Year to all our Design Essential Educators and cosmetology professionals! May your new year be filled with many blessings!
Know another hairstylist that could use some inspiration for 2019? Please share and repost!
http://blog.designessentials.com/uncategorized/calling-stylists-heres-7-things-need-start-2019/